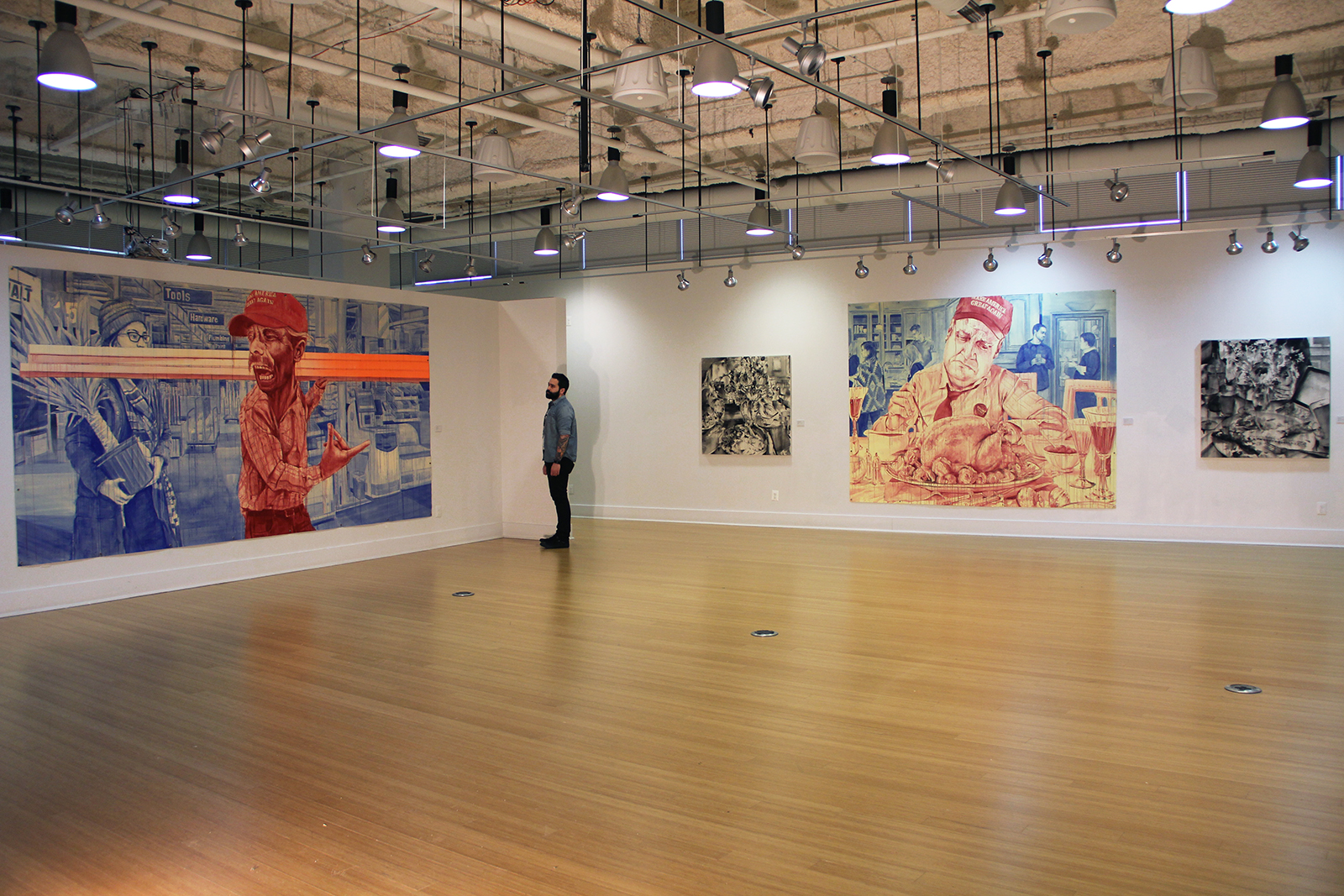 "Build a Wall"
Acrylic on Canvas, 180"x88". 2017
"Brunch with Friends"
Acrylic and spraypaint on Raw Canvas, 48"x48". 2015
"Freedom from Want"
Acrylic on Canvas, 121"x93". 2017
"Strategy Dinner"
Acrylic and spraypaint on Raw Canvas, 48"x48". 2015
"Transplants: The Discovery of Humboldt Park"
Acrylic on Raw Canvas, 5' x 6". 2017
"The Next Wave"
Acrylic on paper, 12"x12". 2015
"Miguel Piñero Scattering his Ashes on the Lower East Side"
Marker and Acrylic on Paper, 13"x15". 2017
"Jacob Lawrence at a Harlem Cafe: The Great Migration"
Gouache, Marker and collage on paper, 11.5"x14.5". 2017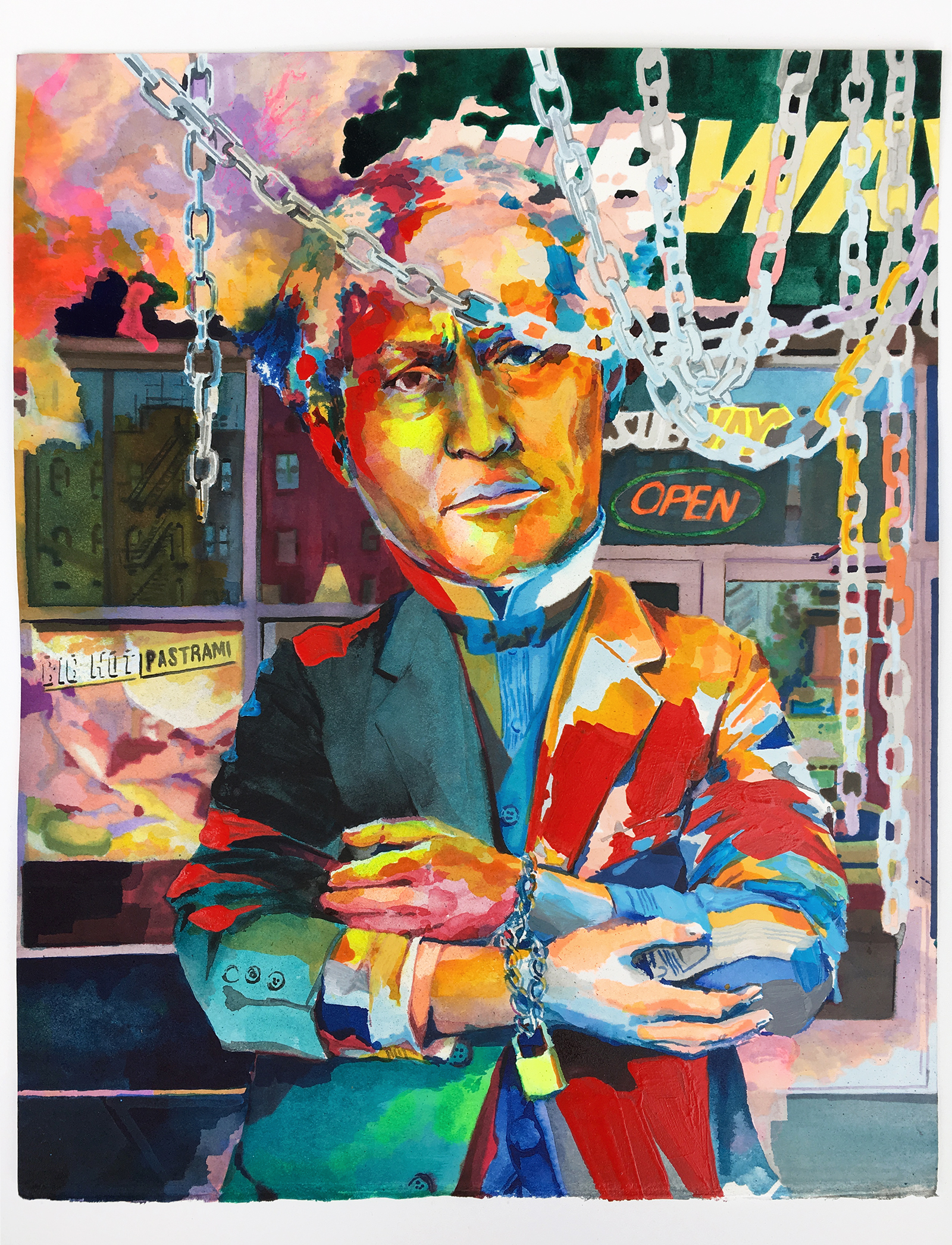 "Houdini Escaping in Front of the Subway on Frederick Douglass Blvd and W 111th Street"
Marker and Acrylic on Paper, 13" x 16". 2017
"Headed to the Rally"
Color pencil and acrylic on paper, 15"x11". 2017
"Lullaby"
Ink on Paper, 8.25"X10.5". 2017
"Sleep of Reason"
6 Color Silkscreen Published by Drive-By Press, 14.5"x 18.75". 2016
"Weeping Candidate"
Ink, Acrylic and Collage on paper, 8"x11.5". 2016
"Wearing Hats Indoors"
Colored Pencil, Gouache and Acrylic on Paper, 21.5"x29.5". 2016
"Ayn Rand Smoke Break"
Acrylic on Dry Wall, 8"x11.5". 2017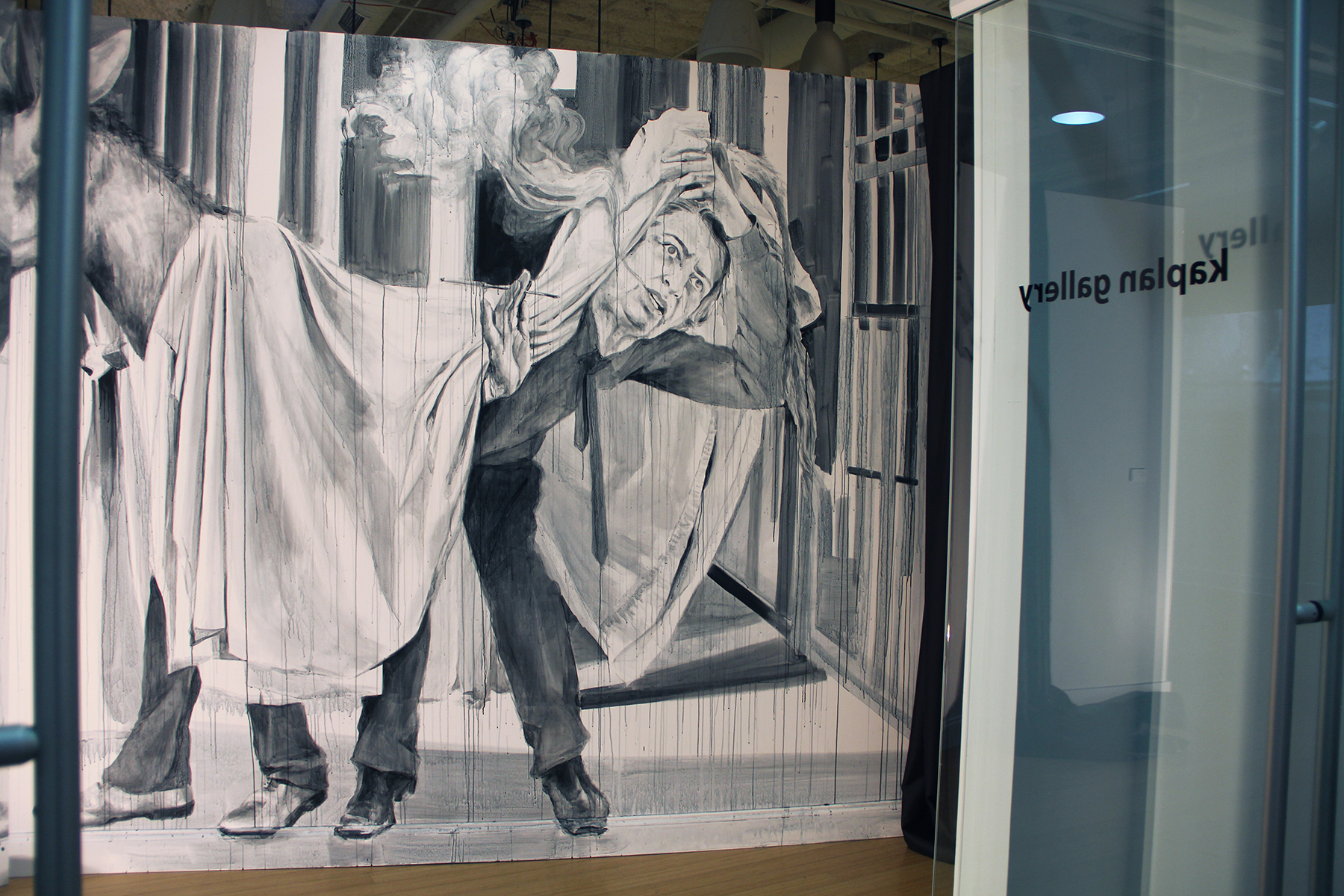 "Too Little Time to Love" (Video Still)
Esteban del Valle
Voice Actor Anthony Venturini
Original Music by Kid Called Computer
For my recent video project "Too Little Time To Love," I recreated a 1963 Ford Galaxy in my studio while at the Smack Mellon Artist Studio Program. The sculpture was built from wood, foam, cardboard, and covered in collaged images of the car itself. The Ford Galaxy functioned as a set for a monologue comprised solely of quotes taken from speeches delivered by Martin Luther King Jr., Nelson Mandela, and Mahatma Gandhi. The monologue rearranged exact quotes to create a text that resembled one side of a heated dialogue, resulting in a narrative involving love, betrayal, violence, and murder. The scene unfolded over the span of a simulated car ride down Martin Luther King Jr. Boulevard in New York, and was performed by me while wearing a mask of all three historical figures combined. The monologue was then completely overdubbed by a professional actor resulting in his voice replacing my own, with several clumsy moments included.
"Unsettling," a solo exhibition of Esteban del Valle's work at VisArts
Too Little Time To Love (trailer, full length 7:35 min)